Advantages of Buying and Building a Metal Shed
Choosing to go with a prefab metal storage shed from Metal Pro offers maximum flexibility combined with the highest quality materials. When you choose to build a shed instead of buying one at a local big box store, you're getting the maximum control over the design, dimensions, and footprint the building will have. Everyone in Canada outdoor has different needs for storage, and by working with our team you can design the shed you need.
Whether you're a business or a homeowner, it's likely you'll encounter a situation where you need outdoor storage shed. You could rent a storage bin in a large company concern, but you'll have to drive there and work around other people. It's far better to just add a new building on your own lot. Let's examine the advantages of building outdoor sheds in Canada and where you can go for the most advanced and durable metal storage buildings available.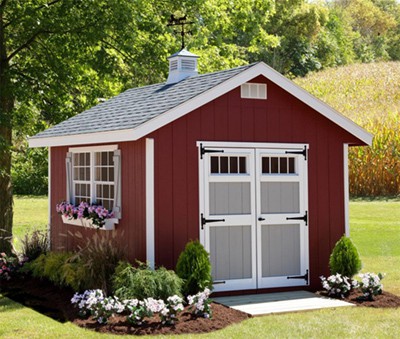 Metal storage sheds in Canada are also far less expensive than many traditional materials, especially in the long run. They last for decades with very little maintenance, and you'll never have to worry about fire or pests damaging your shed. They can stand up to a wide variety of environmental conditions and hazards, so for many, it's a no-brainer.
Uses for Outdoor Storage Sheds in Canada
All metal sheds can be used for a wide variety of purposes. They're great for storing your gardening and landscaping tools and equipment from your lawnmower to tillers, hoes, garden spades, and other hand tools. They can be used for general tool storage buildings from hammers to chainsaws and more. They're outstanding for storing extra furniture or valuables as they're great at keeping the elements out.
More unorthodox uses for storage sheds include a pool house or a fantastic man cave or she shed to let you have a special place of your own where you can engage in crafting, watch TV, listen to music, read a book, or hang out with friends. They can be used as prefab metal workshops so you can do your carpentry, crafting, or other hobby works. Some people use them as outdoor offices to get work done from home without disturbance or distraction. The uses are nearly endless.
Easy Construction of Storage Sheds
Our metal sheds are available in a wide variety of designs from classic Quonset arch to rigid metal buildings. They are engineered using a combination of time-honored principles that date back many centuries, with the most advanced metal alloys available. These structures, depending on the size you choose, can be erected quickly — from a day to a few days — and will stand against harsh environmental conditions with very low maintenance.
Our building construction is accomplished with universal nuts and bolts, which means you don't have to think about what goes where. The process is stress-free and intuitive. The zinc alloy coating we use on our steel storage sheds means they reflect heat and resist corrosion.
For more information about outdoor storage sheds in Canada, get in touch with Metal Pro Buildings today!
GET A QUOTE FOR YOUR SHED HERE
Determine the price of your future steel sheds by entering the size, usage, and type of your building here