AGRICULTURAL FARM BUILDINGS
From agricultural storage for tractors and machinery to providing shelter for livestock, you can count on our farm buildings to give you superior strength and long-lasting reliability for years to come.
Steel Buildings for Agriculture & Farming
100% Canadian owned and operated in Ontario, Canada, ranking highest in the prefabricated steel buildings industry. We use AZ180 steel for all of our buildings, it is the highest steel grade available. Every kit comes with 3 sets of certified foundations and engineered drawings stamped by a Canadian engineer.
Free quotes. No obligation, no hassle, and no pressure!
100% Perfect Better Business Bureau rating
Factory-direct pricing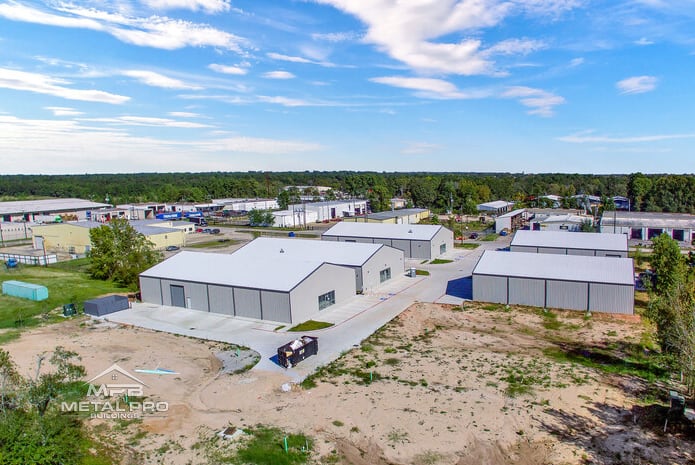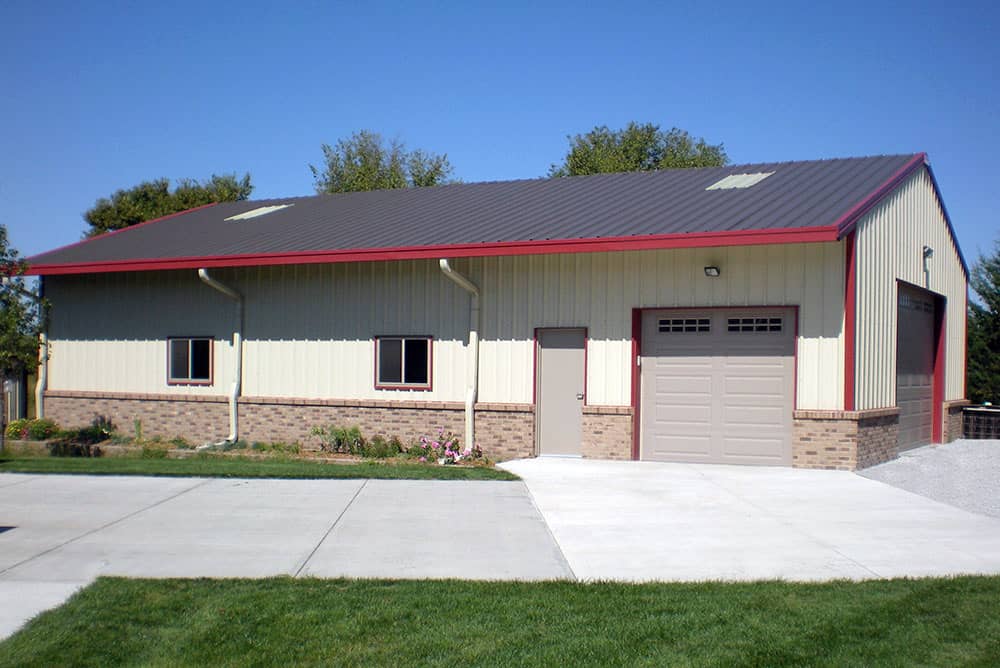 When you need a building for agricultural purposes, our metal barns and structures are a perfect choice!
Order an easy-to-construct custom farm shed, and you will get yourself a building to shelter livestock or store farm equipment or crops, hay or grain. Agricultural operations have practically limitless needs, and our agricultural buildings are perfect for a wide range of uses.
Clear-Span Design for Farm Storage Building
Your agricultural
storage building
from Metal Pro is made with a clear-span design. This means there are no trusses or other obstructions in the building, which clears up the space for storage. You can stack hay as high as you like or use the building to store precious agricultural equipment and machinery. Thanks to 100% usable space, our buildings are the perfect economical option for your agricultural storage needs.
Easy to Construct Agricultural Buildings
We intentionally made our buildings easy to construct. With a simple yet effective design, our steel barn kits can be built in as little as a few days, giving you a building that delivers convenience and regulated quality evaluated by the
One of the aspects that make our buildings so easy to assemble is our use of universal nuts and bolts. Every connection point uses the exact same bolt and nut size, so you won't have to search through a pile of different building materials. This reduces the hassle when constructing the barn and allows you and your team to assemble the steel barn faster than ever.
Our Farm Buildings' Advanced Manufacturing Process
When you order a farm building from Metal Pro, we will begin by custom engineering the building to meet your exact needs, including the specific wind and snow needs for your location. Your building will then be constructed out of commercial gauge steel, using an arch design to create unbeatable strength and longevity.
Canadian steel buildings are the perfect choice for your agricultural or farm storage building. This is a classic engineering principle that has been used for thousands of years. Although our buildings use advanced materials and state-of-the-art alloys, it's the arch design that provides the outstanding strength our customers have come to expect.
High-Quality Steel Provides the Much Needed Strength and Durability You Expect From Your Building
Your farm building needs to withstand the most rugged conditions. Like you, it can't let a little foul weather keep it from doing its job. Fortunately, our steel barn kits are able to withstand the roughest conditions.
Our steel agricultural storage buildings are a perfect replacement for wooden structures, largely because of their unbeatable durability, strength, and rot-resistance.
 Made with High-Quality AZ180 Steel
Our barns use an advanced zinc-aluminum alloy that provides superior corrosion resistance with heat reflectivity. The result is a barn that maintains strength over time with the long-lasting quality you demand.
Thanks to advanced engineering techniques, our buildings have stood up against hurricanes, tornadoes and countless blizzards. Whatever comes your way, your Metal Pro building will hold up to the challenge!
 30 Year Warranty
To give you some added peace of mind, we have given our agricultural buildings a 30-year warranty. You can rest easy knowing your building is built to last and supported by a fantastic warranty and dedicated support team.
Our success is measured by how our clients feel about their experience with us
I have been dealing with Vince at Metal Pro buildings over the last month or so finalizing the details on my 25x35x14 S series building. Vince has been great to work with, always prompt returning my calls and emails and answering my many questions. They are accommodating my delivery to what works best for me and I am confident the garage will live up to my expectations. Once assembled I will try and update/add to my review with my experience post build. Thanks to Vince and everyone at Metal Pro for the great customer service experience!

Rob DeForge


4/09/2019

I feel so fortunate to have such a dedicated professional team take care of my project. It's exciting to see all the great reviews!! Roman took good care of getting everything worked out for me, answering all my questions and even going the extra mile! That's exactly what you want, someone you can depend on! Looking forward to my new Metal Pro Building!! Cheers!

Sébastien Fox


4/04/2020

Danny Kalpakis is on the ball! We are planning on constructing a metal building on our family ranch and are trying to learn all we can about the industry, gather pricing for our vision, and obtain ideas to help us keep costs down while making our dream property come true. Danny asks the right questions and is helping us make realistic plans for the future building. Call him. He is ready to help. Thanks Danny!

Rebecca Palmer


12/12/2019

I chatted with Danny Kalpakis through the Metal Pro website. chat feature. I was very impressed. He asked me specific questions - what I would use the building for, what size I needed, how many doors...I provided answers with my email address. He sent me pricing and building info with pictures within a day. This was even though he knew we weren't ready to sell our current home, never mind commit to a build. Will definitely go with Danny and Metal Pro when we are ready.

J Johnston


5/13/2020
 The Versatility You Need for Agricultural Buildings
If you work in agriculture, you need to be versatile and have numerous skills. You need to repair equipment, fix motors, care for animals, and ensure plants are growing strong. You need to be a mechanic in the morning, a veterinarian before lunch, and a horticulturist in the afternoon. From caretaker to toolmaker, there is no end to the different tasks you need to complete.
Your agricultural buildings should have the same versatility.
With Metal Pro, you can order metal sheds and barn kits that are engineered to meet your specific needs. You can find models that are available in 10-foot lengths, 150-foot lengths and everything in between. Customizing your building is easy with our ordering process and outstanding personalized customer service. Rest assured we can create the exact building you need for any of task!
GET AN INSTANT QUOTE FOR YOUR FARM BUILDING
Determine the price of your future steel building by entering the size, usage, and type of your building here: