LOOKING FOR EQUIPMENT STORAGE?
Finding the right storage solution for your equipment can be tricky, particularly if your equipment is on the larger side. At Metal Pro you can order custom steel buildings for virtually any equipment you need to store.
Build Your Storage Solution With Metal Pro Buildings
100% Canadian owned and operated in Ontario, Canada, ranking highest in the prefabricated steel buildings industry. We use AZ180 steel for all of our buildings, it is the highest steel grade available, with 3 sets of certified engineered and foundation drawings stamped by a Canadian engineer.
Free quotes. No obligation, no hassle, and no pressure!
100% Perfect Better Business Bureau rating
Factory-direct pricing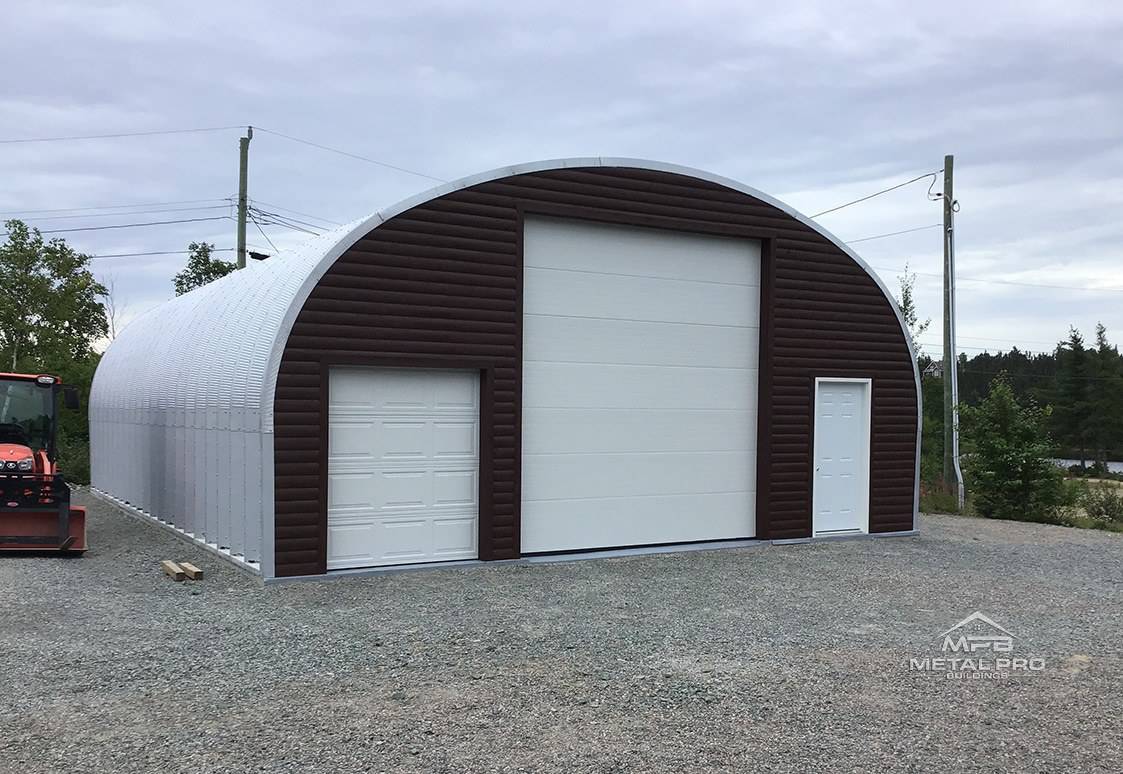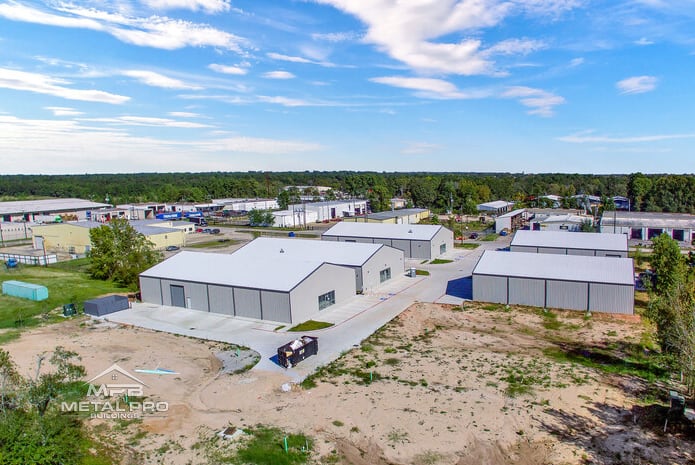 STORAGE BUILDING KITS FOR EVERY NEED
Our metal buildings provide everything you could want in an equipment storage solution, including simple construction and extreme durability. Find out why you should choose one of our metal buildings for your equipment storage building needs and learn a little bit about our high-quality products.
Quality Materials For Your Storage Buildings
When you're looking for the storage building, the most important factor is finding an option that will shield your possessions from harm. This means that you need to make sure that your storage building is constructed using strong materials, which is exactly what you'll get when you choose to work with us.
We construct our buildings using 22-gauge or thicker steel, making them some of the toughest equipment storage buildings on the market today. In addition to being resistant to fire, our buildings can be customized so that they will be able to stand up to the typical weather conditions in your area, including snow and wind.
Because they are constructed from metal, our buildings are extremely durable. However, we want to make sure that your storage solution will last as long as you want and need, which is why we add a coat of Galvalume Plus to our structures. This protecting helps to improve the sturdiness of your building, making it resistant to both ultraviolet sunlight and damage from rust. If you want an equipment storage building that's made with the most reliable materials possible, you should be sure to choose one or our metal buildings.
EQUIPMENT Storage Buildings Gallery
When you need to store your equipment, you want to do so without delay, which makes it important to select a storage solution that can be constructed quickly and easily. While there are several benefits to purchasing one of our buildings, ultra-fast construction is one of the most enticing.
The metal buildings we offer are prefabricated, which means they can be constructed in a very short period of time. In addition, all connections use the same size nuts and bolts so that you don't have to be an expert to put together one of our buildings. Shortly after you make your purchase, you can erect your building and provide your valuable equipment with the unbeatable protection that it deserves.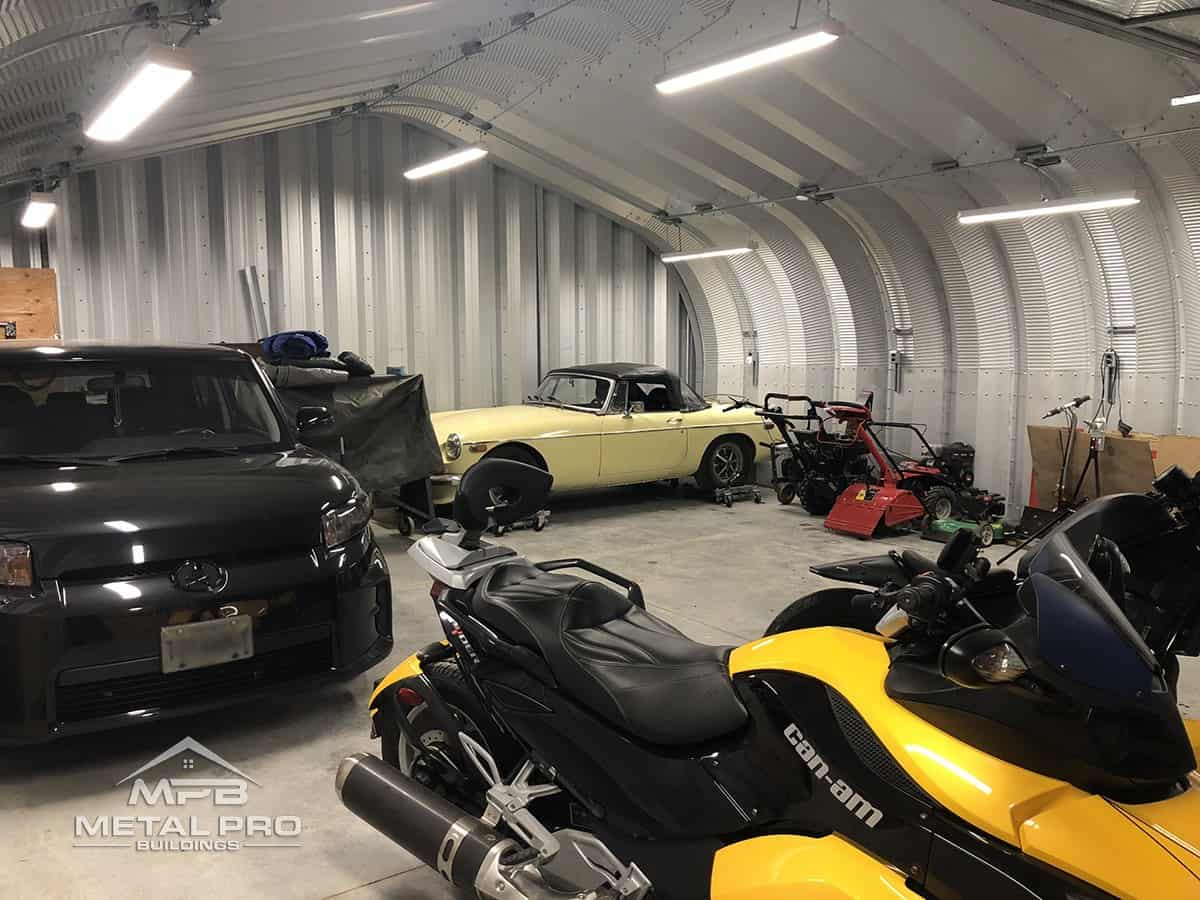 Arch Design
Whether your storing bulky equipment or simply want to make sure that you'll never run out of room, you need a building that will help you maximize your space, and this is another reason you should consider choosing one of our structures.
Unlike other equipment storage buildings, which require support from beams and trusses, the arch style buildings require no added support. In effect, this means you'll be able to use every square foot of space in your building to store your equipment. With our buildings, you'll never run out of the space that you need for your possessions
Accessories
The manufacturer provides a complete array of standard accessory items available for all structure types.
Ventilator fans, single nuts and bolts system, baseplates, u-channels and other
Skylights, Door Lights Wall Lights
Wide variety of fiberglass panels formed to the shape of the basic building components. Material is a quality 12 oz ., 16 oz. , or 24 oz. fiberglass panel designed to install as a replacement for standard steel sections for ease of erection.
Insulation
Building experts at Metal Pro can recommend a variety of different insulation materials for steel buildings. Available as a pre-cut blanket for the easy installation.
It is used for ceiling and walls insulation in pre-engineered buildings.
Arch type structures are compatible with all conventional insulation methods – spray on, fiberglass rolls, or rigid foam.
Accessories
Although the most important part of equipment buildings is making sure you have enough floor space, it's also vital that you have the accessories that you need to optimize your structure. By shopping with us, you'll have access to a wide range of top-notch accessories, ensuring that your building fits you like a glove.
For instance, we offer multiple door styles, including garage and sliding doors that will make it easier for you to move your large equipment into and out of your building. You can even add skylights to your building so that you'll always have enough lighting when you're working on your equipment.
Our success is measured by how our clients feel about their experience with us
Danny's very helpful. He's persistent and willing to do anything to help seal the deal. Look forward to the end result

Geoff Badger


8/31/2020

Danny, has been instrumental in helping our family to find the right building for our needs. He has been there, and continues to be with us through our journey in growing our business. We look forward to continuing our current project with Danny. We highly recommend Danny for your next project should you chose his company Metal Pro Buildings. Its been a good go for us.

Jamie Kirkham


1/03/2020

We are in the process of buying out building and John has been amazing. Holding our hand through the process, finding information for us regarding the rules and ensuring we are getting what we need. I called several other places and Metal Pro Buildings far exceeds what the others were doing or should I say NOT doing!!!! Thanks John for all the follow up, you are appreciated.

Jill Larsen


12/18/2019

I thank you for all your help.It is always a pleasure to work with Roman.So diligent and has made some of the best opportunities possible for me and my family.I look forward in the future to work with you and your team.A big thank you Roman.Thank you for everthing.Have a great day. Floyd Young

Floyd Young


7/14/2020
Easy Equipment Storage
Anyone that needs effective and reliable equipment storage sheds solution should choose a quality metal building from Metal Pro Buildings. Our buildings are second to none, are a great choice for your commercial or residential equipment storage needs.
When you make the wise choice of investing in one of our buildings, you'll be able to protect your important equipment for years to come. Best of all, our buildings are virtually maintenance-free, helping you to control your costs over time. Contact us today to find out which of our buildings will meet your equipment storage requirements and to request a quote.
Meta: Find out why you should choose one of our metal buildings for your equipment storage needs and learn a little bit about our high-quality products.
GET AN INSTANT QUOTE FOR YOUR STORAGE BUILDING
Determine the price of your future steel building by entering the size, usage, and type of your building here: