Are you looking for a strong, secure storage shed for your tools, yard equipment, or small machinery? We have you covered! We ship our steel sheds all across North America straight from our factory in Ontario, Canada.
Build Your Storage Shed With Metal Pro Buildings
100% Canadian own and operated company in Ontario, CA ranking highest in prefabricated steel buildings industry. Metal Pro uses AZ180 steel for all of our buildings it is the highest steel grade with 3 sets of certified engineered foundation and building drawings stamped by a Canadian engineer.
Free quotes. No obligation, no hassle, and no pressure!
100% Perfect Better Business Bureau rating
Factory-direct pricing
We offer a full selection of outstanding metal buildings of all sizes, including storage sheds for a wide range of purposes in Canada. We can help you get an agricultural building for storing the most massive tractors and machinery. We can also deliver a small shed that fits perfectly on your lot.
You have a lot of money invested in your yard equipment. From garden tractors to lawnmowers to trimmers and edgers, you likely have tens of thousands of dollars in equipment. Don't take chances when you can have an affordable, convenient building from Metal Pro!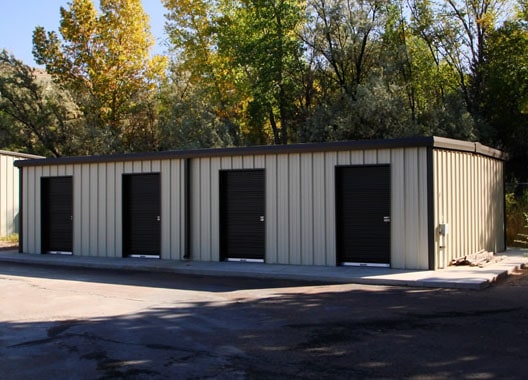 Create Steel Sheds that Meets Your Needs
When you work with us for your outdoor storage building, you'll be able to choose from prefabricated sheds that come in a large variety of size. Our buildings are available in widths of 10 to 150 feet, so you can choose the precise size for your equipment storage and agricultural needs.
Select the doors and features that work for your building as well. For example, if you need a shed that will store a small tractor with a wide scoop bucket, you can choose a sliding door that gives you the right access. If you want added convenience, you can create a metal storage shed with a mechanical rising garage door. You can also select skylights, ventilators, and other features to make the shed 100% your own!
Our success is measured by how our clients feel about their experience with us
Danny's very helpful. He's persistent and willing to do anything to help seal the deal. Look forward to the end result

Geoff Badger


August 31, 2020

I'm currently in the process of exploring options for a small cabin. Danny has been very helpful and quick to reply. I really like the designs they offer, and the price for the unit I asked about was quite a bit less than I expected. MPB will definitely be at the top of my list when making a final decision.

Andrew Cunningham


June 3, 2020

Thank you Roman, Danny and Vince for your informed, patient and professional service. Your understanding of your products and your gracious way of communicating to ensure that I understood what I needed for my storage is appreciated. Thank you for your impressive customer driven service. From pricing to product information and assistance you surpassed my expectations. Again, thank you for the great team effort in servicing us. Excellent customer-driven service! -Brenda Fleming

Brenda Fleming


September 21, 2020

I have been working with Vince Delio to purchase my new work shop. He has made buying a Metal Pro building very easy. I am impressed with his knowledge and willingness to help me bring it all together. Today it is rare to find a sales person who actuality takes the time to insure everything is right and will meet your requirements. Well done Vince Thank you.

Robin Sanders


April 22, 2019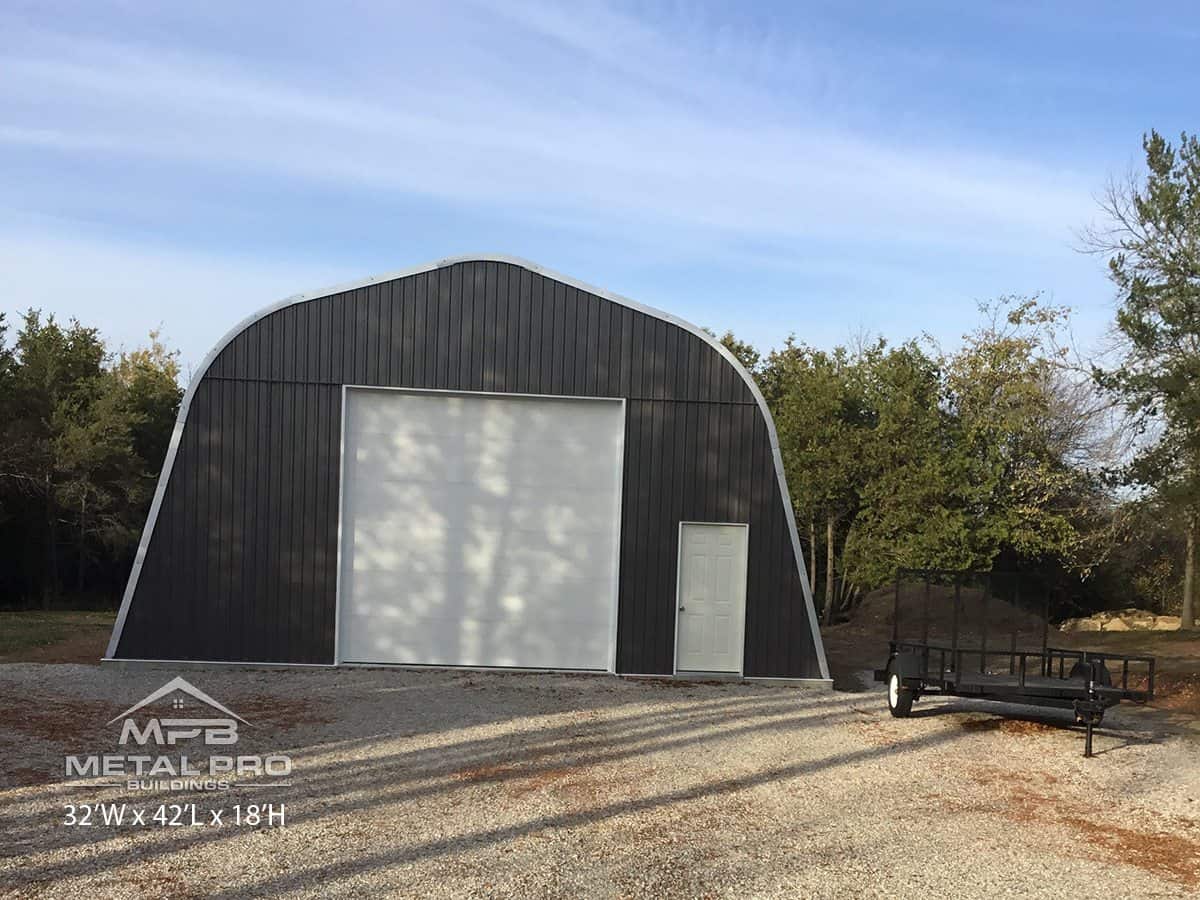 A Storage Sheds Design For Ages
While we use advanced, state-of-the metal alloys to create world-class buildings, we also use something that has been around for thousands of years: the arch design. By manufacturing our buildings with an arch design, we are able to create sturdier buildings that last for generations. Compared to straight-wall buildings with sharp corners, our steel arch buildings can withstand more weight, including snow.
The arch design also allows us to create steel sheds that have no trusses or other overhead obstructions, meaning you can take better advantage from every cubic foot of space. For small metal sheds, getting the most from your space is essential, which makes our building incredibly popular. If you want to store a tall toolbox or stack materials for a hobby, a shed without trusses allows you to get the best from your space.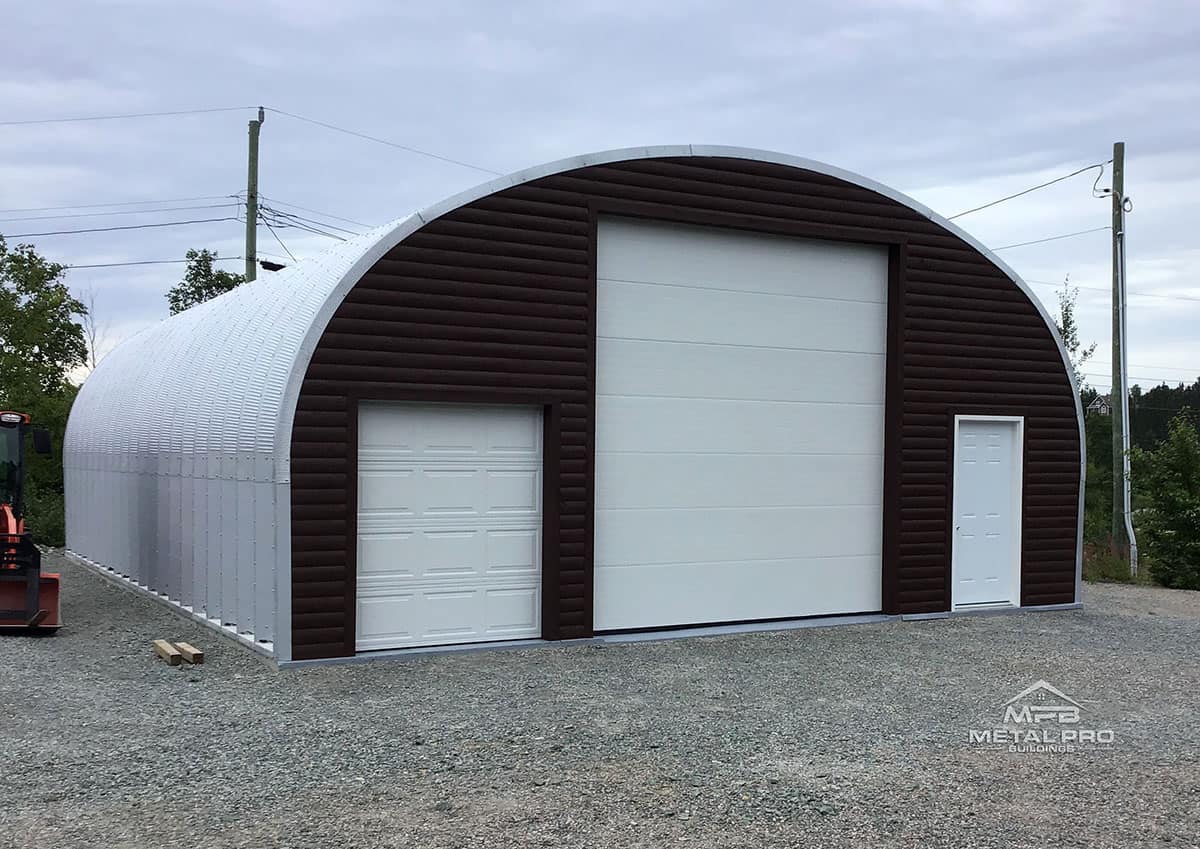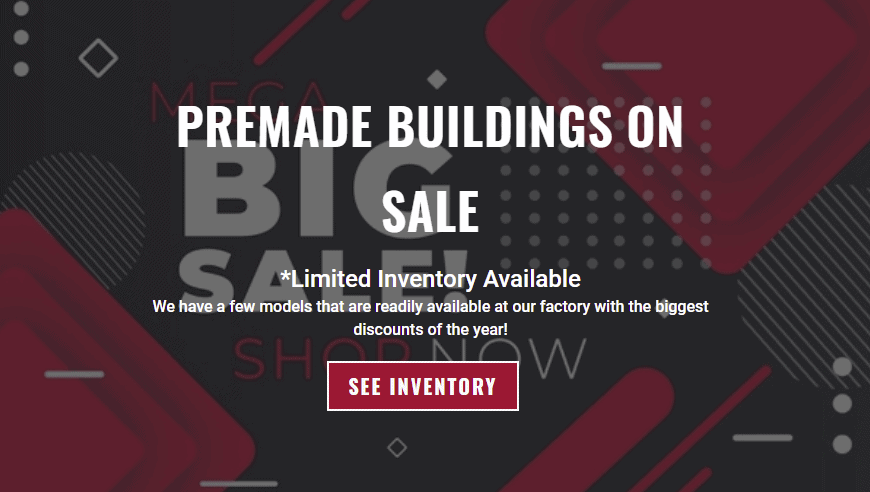 Simple Ordering around Canada and USA and Construction Make Ownership a Breeze
From start to finish, we make the ordering and construction process easy. With minimal maintenance, long-term ownership is a breeze too.
When you contact Metal Pro, you'll work with a knowledgeable expert who understands the importance of metal buildings. We'll listen to your needs and help you make the right decision for size, accessories, doors, and other features. We'll also make the ordering process easy with a simple and straight-forward process.
When your building materials arrive, you'll be able to construct the metal storage sheds in Canada quickly, often in a few days or less. Everything is easy to assemble, and all connection points use the exact same sizes for nuts and bolts. This means everything is uniform and you can quickly get to work creating your building. With the help of a few friends and family members, you can likely construct your long-lasting building on a quick weekend.
Take Advantage of all the benefits Galvalume Plus Metal Sheds in Canada have to offer!
All of the buildings made by Metal Pro, from massive industrial storage or agricultural buildings to small metal sheds, are made with Galvalume Plus steel. This is one of the most corrosion-resistant metals on the market. Galvalume Plus is made with an alloy of zinc and aluminum, which provides the steel building material with corrosion resistance and heat reflection. Galvalume Plus has been so effective that is has outperformed industry standards for over 28 years.
No matter what size you choose, you'll get material that is always 22-gauge steel or thicker. We only use commercial-grade steel, which further enhances the long-term quality and reliability of your building.
Because your steel shed is made from steel and not wood, you will have a building that is resistant to rotting, resulting in a structure that lasts much longer. Metal buildings also won't harbor termites and other critters that are attracted to wood. It's just another reason why Metal Pro steel sheds are a popular choice among homeowners, property owners, farmers, ranchers, and business owners.
GET AN INSTANT QUOTE FOR YOUR BUILDING
Determine the price of your future steel building by entering the size, usage, and type of your building here