Pole Barns
The name"pole barn" originated from the Economic Downturn in the Great Depression and Dust Bowl Era of the 1930s. Farmers had to turn to the most cost-efficient materials (recycled telephone poles) they could find to construct new buildings. These "telephone pole barns" simplified to "pole barns," marked a new era of American pole barns.
Steel Buildings For Sale From Metal Pro
100% Canadian owned and operated in Ontario, Canada, ranking highest in the prefabricated steel buildings industry. We use AZ180 steel for all of our buildings, it is the highest steel grade available. All of our commercial steel buildings come with 3 sets of certified engineered and foundation drawings stamped by a Canadian engineer.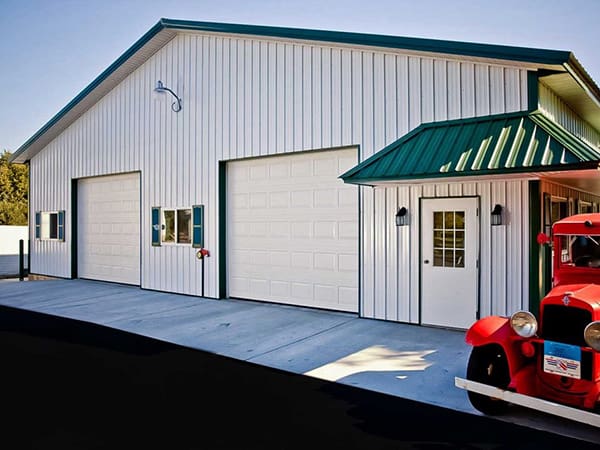 Free quotes. No obligation, no hassle, and no pressure!
100% Perfect Better Business Bureau rating
Factory-direct pricing
How a Pole Barn Works?
First, consider how a pole barn is constructed. In this method, wooden poles are buried in the ground and then used as columns for the roof. The walls are traditionally made of wood, or perhaps tin, and are either screwed or nailed into the poles. The advantage of pole barns is that they are inexpensive and you can add on many additional features, such as steel framing and insulation. The disadvantage is they have poles buried in the ground. Meaning, that over time these poles will shift and eventually decay which requires frequent maintenance and repairs.
Pole barns are not considered a permanent structure and you may experience problems with building codes in some areas. Furthermore, barn house insurance is known to be expensive, as these buildings are simply not as solid as the competition.
Pole Barn or Steel Barn Frame?
The key feature of pole buildings is that they're designed with posts as a framing member, which are buried a few feet into the ground. These serve as a key to the foundation of the entire horse barn, which is far less expensive and time-consuming to prepare compared to other types of construction. Pole barns are a type of post-frame construction – a technique used for centuries to quickly construct sturdy, reliable structures. Post-frame construction is a highly engineered solution that combines efficiency and adaptability.
A steel frame barn's construction style is steel columns anchored to a concrete foundation. This makes construction easier and more durable than the pole barn method. A steel frame barn is also weather-resistant, to both inclement weather and minor weather-related damage, such as mold, cracking and rotting. A steel frame barn is also fire resistant, does not require maintenance or repainting, and is made from hygienic material that does not support soil rotting.
See Pole Barn Buildings Gallery
Pole Barn Vs Steel Frame Construction Cost
Pole barns may be cheaper, though the average steel frame barn is listed at prices 60% less than traditional construction. Be aware, if you can save some money on a pole barn option, remember that you may be required to spend additional money on maintenance costs, longer construction times, and more investment if you want to expand the barn later on. A steel frame barn offers savings physically as well as economically. A steel frame barn also saves you energy costs, insurance costs (steel structure buildings usually cost 40% less) and may come with a generous warranty, lasting a few decades.
Lastly, let's not forget to consider the welfare of your animal. Barns are usually not recommended for livestock because there is a risk of poisonous and unsanitary conditions thanks to the style of construction. Since you are building the barn for the horse, an animal that is either personally priceless or professionally expensive, choose only the safest option: barn steel.
Steel Buildings From Metal Pro
No matter what kind of a steel building you're looking for, Metal Pro is always happy to help. We offer various buildings for virtually all applications, though you're always free to work with our team to design a completely customized building uniquely suited to your business. Contact us today to get started!
GET A QUOTE FOR A POLE BARN
Determine the price of your future steel building by entering the size, usage, and type of your building here:
Our success is measured by how our clients feel about their experience with us
Vince and Metal Pro Buildings have been great to work with. They provide great customer service and are always available to take your call. Vince's resourcefulness was very much appreciated, and I would highly recommend his services to anyone considering purchasing a metal building. There's no question Vince can't answer, and he'll do so professionally and promptly. Thanks again for your invaluable service.

Jenessa Tuele


March 26, 2019

Remember this when you need to build an all metal building.... "Metal Pro is the way to go!" Vince Di Leo, you are the MAN!!! Made this whole process super easy! Headache free and fast to respond, while keeping your cool even when things on my end had to grind along so slowly. Definitely a Metal pro MVP! Three months of researching prices and quality, led me to you guys! Can wait till I've saved up enough to buy my own personal building from you too! My students are excited to get started on the construction as soon as the building get gets here. Until we do business again! take care!

Tim Michalchuk


March 9, 2020

Danny, has been instrumental in helping our family to find the right building for our needs. He has been there, and continues to be with us through our journey in growing our business. We look forward to continuing our current project with Danny. We highly recommend Danny for your next project should you chose his company Metal Pro Buildings. Its been a good go for us.

Jamie Kirkham


January 3, 2020

Danny and the whole crew were awesome to deal with. We had a few speed bumps starting off but metal pro was very understanding and accommodating to our needs. They have a solution no matter your project. Danny from day one told us they are a family based company and it truly shows. Thank you!

Meaghan Buckingham


July 23, 2020