Looking To Build a Garage With a Loft?
More and more people every year are turning to our ultramodern and unique structures for their living spaces. Our metal buildings are quick and easy to construct, cost less than traditional buildings and provide long term savings on both construction and ownership costs.
Build Your Garage Loft With Metal Pro Buildings
100% Canadian owned and operated company in Ontario, ranking highest in the prefabricated steel building industry. We use AZ180 steel for all of our buildings, it is the highest grade steel in the industry. Every kit comes with 3 sets of certified engineered plans and foundation drawings stamped by a Canadian engineer.
Free quotes. No obligation, no hassle, and no pressure!
100% Perfect Better Business Bureau rating
Factory-direct pricing
Easy construction
Long lasting durability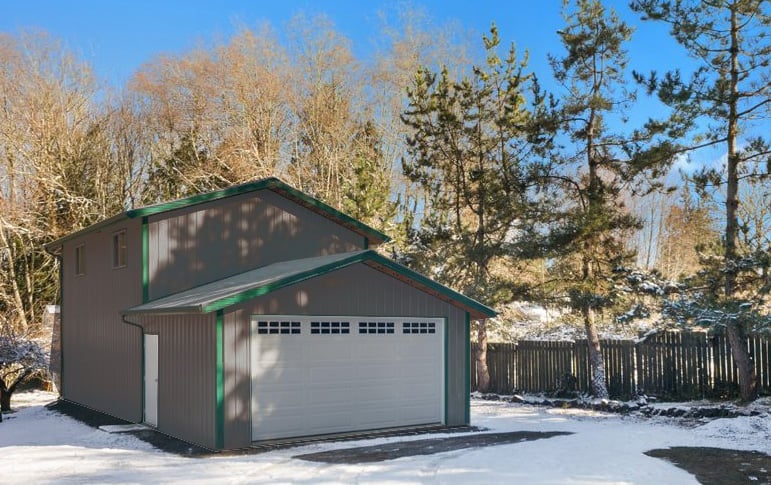 Whether you're looking to add a second living space to your property in order to earn some extra income or looking for a new creative space to call home, Our steel garage loft packages are perfect for you. Our durable, long-lasting steel loft garage packages come in a variety of models, configurations, and styles, from commercial sizes to residential home spaces, our expert team of building specialists are ready to find you the perfect solution that will meet your exact needs.
Benefits of a Prefab Garage Loft Home
A prefab garage with a loft apartment structure is the perfect living space solution. The main garage area provides tons of room for any space arrangement you like, from a garage and workspace to a game room and lounge, our garages can be customized to fit your every need. The downstairs area can serve as a workout facility, office or even a library, while upstairs, your loft provides you privacy for your sleeping arrangements, so that when guests come over, your personal area is separate from your entertaining area. It's the most ultramodern approach to an open design living space.
Whether you're an artist, craftsperson or you just want a modern or bohemian take on your next home, our metal buildings can provide you with everything you need to be a "modern homesteader". They assemble quickly and easily and they cost a fraction of what other forms of the traditional buildings cost. 
Cost Savings with an Extra Loft Space
Building a prefab metal building can cost as low as 10% of the cost of a traditional building, with no ongoing cost.
Why rent an apartment with an ongoing cost of hundreds of dollars every month when you can own your space without ongoing payments? Our buildings will certainly provide more space than an apartment.
In terms of metal houses, our buildings also cost a fraction of a traditional home, while providing far greater usable space, as they have an open floor plan. You can also customize the layout and add options to suit your exact specifications, choose the exact location, style and placement of your doors, windows, and even skylights. Because our loft garages are made from steel that's coated with heat-reflecting Galvalume-Plus, you may save money on utility bills as well, staying cool in the winter and warm in the summer.
In terms of an economical, cost-saving living space, our garage kits with a loft are tough to beat.
Accessories
The manufacturer provides a complete array of standard accessory items available for all structure types.
Ventilator fans, single nuts and bolts system, baseplates, u-channels and many other options.
Colour Options
Construct the building of your dreams and express yourself with our various colour options, customize the entire look of your building by selecting the Corner Colour, Eave Colour, Wall Colour, Gable Colour, Jamb Colour and Roof Colour.
Skylights
Wide variety of fiberglass panels with virtually unlimited placement options. Material is a quality 12 oz ., 16 oz. , or 24 oz. fiberglass panel designed to be installed as a replacement for standard steel sections for ease of erection.
Insulation
Building experts at Metal Pro can recommend a variety of different insulation materials for steel buildings.
Available as a pre-cut blanket for the easy installation. Typically between 3″ – 6″ inches for both wall and roof. It is used for ceiling and walls insulation in pre-engineered buildings.
*Our prefab garages are compatible with all conventional insulation methods – spray on, fiberglass rolls, or rigid foam.
Ventilation
Get the airflow and air quality you want from your garage with our various ventilation options, From Ridge vents to 3 X 3 Fixed Louvers we have you covered! 
Vents are perfect for those looking to work with hazardous fumes within their garages.
Doors
Change the functionality and aesthetic of your garage with our various door options,        from 3 X 7 Full Panel Walk Doors to a 6 X 7 Narrow Glass Double Walk Door Kit, completely customize your garage by placing doors anywhere on your building.
Windows
Customize your garage by installing windows on virtually any part of the building. Get the perfect amount of natural light and visibility with our custom windows, from a 3 X 3 Insulated Horizontal Sliding window to Vertical Sliding 6 X 3 window, we have many options you can use to customize your garage to suit your exact needs.
Garage Kit with Loft
If you're looking to take your modern living arrangements to the next level, garage kits with lofts made from prefab metal sets are an ideal solution. These structures are built to last, they are corrosion-resistant and can hold up to the harshest weather conditions.
Metal Pro Buildings has been in the business of offering the highest quality prefab garage buildings for 40 years, and we're ready to help you with your next metal frame building home. Check out our garage building kits, then create and customize it to meet your exact needs. For more information and answers to all your questions, give us a call today!
Our success is measured by how our clients feel about their experience with us
I just purchased a garage from Danny Kalpakis and i was so impressed with his professionalism and how he didnt come across as "some sales guy on the phone" I really lucked out finding the right company and a good guy to deal with. I will be passing on this company as a recommendation to others just on the grounds of how I was treated as a client. Thanks againMatt

Matt Burton


5/15/2020

Danny's very helpful. He's persistent and willing to do anything to help seal the deal. Look forward to the end result

Geoff Badger


8/31/2020

We are in the process of erecting our 40 x 50 steel rigid frame building we purchased from Oliver at Metal Pro Buildings. So far the experience has been flawless. We received exactly the building we ordered and any question we had was always answered by Oliver. He made certain contractual commitments to us that he lived up to. We are very happy with our building and particularly the service we have received. We would definitely buy another building through Oliver and Metal Pro in the future...

Scott Weinrich


11/28/2019

I chatted with Danny Kalpakis through the Metal Pro website. chat feature. I was very impressed. He asked me specific questions - what I would use the building for, what size I needed, how many doors...I provided answers with my email address. He sent me pricing and building info with pictures within a day. This was even though he knew we weren't ready to sell our current home, never mind commit to a build. Will definitely go with Danny and Metal Pro when we are ready.

J Johnston


5/13/2020
Get Started on Your New Garage Loft with Metal Pro Buildings
Buying and constructing a steel building is always a huge decision, one that you may only be making once in your life, so you need to make sure you're doing it right.
That's why you deserve to work with a company you can trust, and no one offers you the same benefits as Metal Pro Buildings. We make construction easy with our available kits, but that's just the beginning, our talented specialists are eager to get you started on your dream project!
You're free to fully customize your design, add windows, doors and accessories to any part of the structure. Even ordering the building you want is easy when you utilize our online tools or talk with one of our specialists in chat for a personal touch. 
As an added bonus, we're happy to offer a 30-year warranty with all our buildings so you can be sure they'll last for the long haul.
GET AN INSTANT QUOTE FOR YOUR LOFT BUILDING
Determine the price of your future steel building by entering the size, usage, and type of your building here