If you own an RV, you have one of the most entertaining and enjoyable vehicles on the road. RV's are more than just transportation, they are a lifestyle-changing vehicle that, for many owners, is more of a home than their permanent residence.
Build Your RV Storage Garage With Metal Pro Buildings
100% Canadian owned and operated in Ontario, Canada, ranking highest in the prefabricated steel buildings industry. We use AZ180 steel for all of our buildings, it is the highest steel grade available, with 3 sets of certified engineered and foundation drawings stamped by a Canadian engineer.
Free quotes. No obligation, no hassle, and no pressure!
100% Perfect Better Business Bureau rating
Factory-direct pricing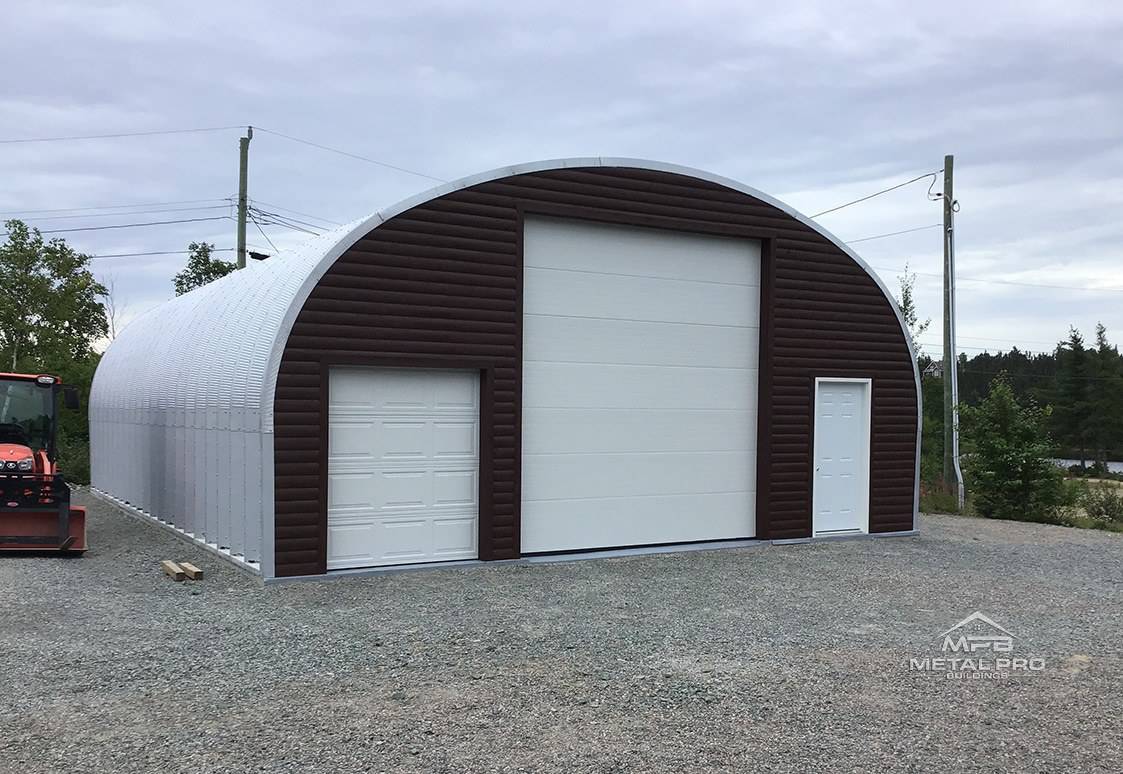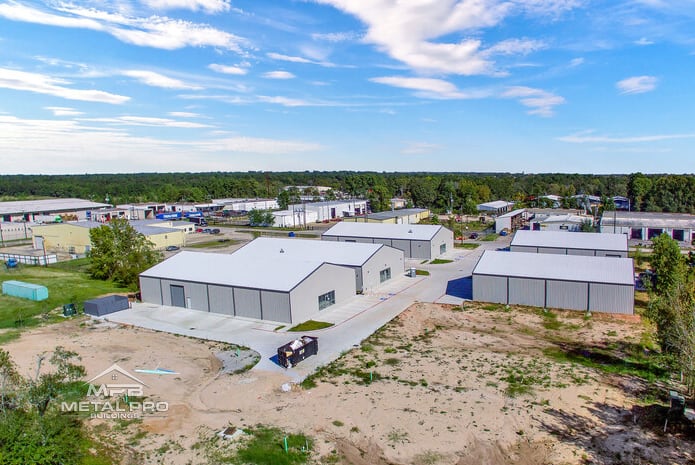 Proper storage for your RV is crucial
You have spent tens of thousands of dollars on your recreational vehicle. So why neglect the storage for your RV?
You need a solid, reliable, and affordable storage option for your recreational vehicle and Metal Pro is here to make it happen. The RV is one of your biggest investments, so protect it with a steel building from Metal Pro right away.
Our metal shed kits are the perfect options for RV storage. With a high-style roof and strong sidewalls, these metal buildings create storage for your RV that can't be matched by other buildings, all with a level of service that is unbeatable! You'll have a building that is affordable and easy to construct, providing storage for your RV while enhancing the value and quality of your property.
When you use one of our steel buildings for RV storage, you can be certain that your recreational vehicle is protected by the sturdiest structure possible.
An Intuitive Storage Arch Design Creates a Better Space
One of the top advantages for our outdoor metal storage buildings is the intelligent arch design. This clear-span steel arch building design help maximize the available space, creating a facility that you can use for big recreational vehicles. Because there are no trusses or other overhead obstructions, you can use the space for the tallest items, including recreational vehicles, machinery, or equipment storage.
The arch design is also stronger than square-walled buildings. The classic arch, which is a timeless engineering design, creates a sturdy, reliable structure that lasts for years. It can hold up against the heaviest snows and the strongest winds, all while protecting your valuable RV, tools, equipment, and toys!
The storage for your RV will not only be reliable and affordable, it will be remarkably easy to construct. First of all, we make the ordering process clear and simple, providing reliable information on pricing, sizes, and accessories.
When the material for your metal storage buildings arrives, you'll be given clear, accurate instructions on the construction of your structure. The instructions will guide you through the steps in an easy-to-follow manner, and the entire building uses the same set of nuts and bolts throughout, significantly reducing hassle while increasing efficiencies. Most people, in fact, can erect their storage building for RV's in as little as a few days. With the help of friends and family, you can likely construct a building that lasts for decades in a short weekend!
Get the Options You Need for Metal RV Storage Sheds
With our simple and easy ordering process, you can create the RV storage building that perfectly matches your needs. You can choose from a wide variety of sizes to build metal storage building that has room for just the RV and a few tools. If you need more room, you can create an facility with storage space for the RV tractors, motorcycles, boats, and more. There is no limit to the size and options you can create for RV storage!
You can also select a wide range of accessories for your large storage sheds in Canada. If you want a simple building with a tall garage door, we can make it happen. If you want a building with multiple sliding doors, pedestrian doors, ventilator, we can make that happen as well! We are dedicated to helping you get the exact building you need, so when it comes to storage for RV's and other material, make sure you have a building from Metal Pro.
Make Your RV Storage Your Own
When you order your building from Metal Pro, you can choose from a large variety of model types and sizes. Whether you need a small ten-foot storage shed or a massive 150-foot metal storage building, you'll have everything you need to make the facility exactly how you want it. There are virtually unlimited lengths for your building, allow you to have the exact size you need.
You can also select from a huge variety of accessories, including ventilators, skylights, and more. We understand that each storage building will be used for different materials and equipment storage, so we provide a range of door sizes. From doors for foot traffic to lifting garage doors to massive sliding doors for moving tractors and other large equipment, you'll have the right accessories to make the building exactly how you prefer.
Accessories
The manufacturer provides a complete array of standard accessory items available for all structure types.
Ventilator fans, single nuts and bolts system, baseplates, u-channels and other
Skylights, Door Lights Wall Lights
Wide variety of fiberglass panels formed to the shape of the basic building components. Material is a quality 12 oz ., 16 oz. , or 24 oz. fiberglass panel designed to install as a replacement for standard steel sections for ease of erection.
Insulation
Building experts at Metal Pro can recommend a variety of different insulation materials for steel buildings. Available as a pre-cut blanket for the easy installation.
It is used for ceiling and walls insulation in pre-engineered buildings.
Arch type structures are compatible with all conventional insulation methods – spray on, fiberglass rolls, or rigid foam.
Made from Advanced Commercial-Grade Steel
While the design uses a classic shape to create better strength, the material itself is some of the most advanced on the market. We create our large storage buildings from Galvalume Plus, a metal that uses a zinc-aluminum alloy to give the material corrosion resistance and heat reflectivity. When you use this material for storage for RV's and other vehicles, you'll know that your building is built to last. In fact, Galvalume Plus has been outperforming industry standards for over 28 years!
Because these buildings don't use wood, there is no risk for rotting or damage from termites and other boring insects. This gives you added reliability and longevity and creates an outdoor storage building that will be with you for decades. There are less maintenance and less hassle, allowing you to enjoy your RV with less worry!
Our success is measured by how our clients feel about their experience with us
I feel so fortunate to have such a dedicated professional team take care of my project. It's exciting to see all the great reviews!!Roman took good care of getting everything worked out for me, answering all my questions and even going the extra mile! That's exactly what you want, someone you can depend on!Looking forward to my new Metal Pro Building!! Cheers!

Sébastien Fox


4/04/2020

Vince and Metal Pro Buildings have been great to work with. They provide great customer service and are always available to take your call. Vince's resourcefulness was very much appreciated, and I would highly recommend his services to anyone considering purchasing a metal building. There's no question Vince can't answer, and he'll do so professionally and promptly. Thanks again for your invaluable service.

Jenessa Tuele


3/26/2019

Just a short note to say ... thanks. Roman has been very helpful with my pursuit of a structure that is suitable to my needs. At this writing, I am still in my decision-making process. This said, Roman continues his assistance providing information and solid advice. I look forward to continuing my inter-actions with Roman. Cheers.

Michael Sonntag


5/26/2020

Roman thanks for your professionalism offering us a quote for steel building. The quote was very professional and Roman customer services was perfect. Unfortunately, our company decided for a different concept of construction but I am really satisfied with the Metal Pro Building sales service.

Juliano Vieira


9/30/2020
Get Started With RV Storage Buildings from Metal Pro Buildings
Buying and constructing a steel building is always a huge decision, so you need to make sure you're doing it right! That's why you deserve to work with a company you can trust, and no one offers you the same benefits as Metal Pro Buildings. We make construction easy with our available kits, but that's just the beginning, our highly-dedicated team of building specialists will work with you every step of the way to get you the building of your dreams!
GET AN INSTANT QUOTE FOR YOUR RV STORAGE BUILDING
Determine the price of your future steel building by entering the size, usage, and type of your building here: